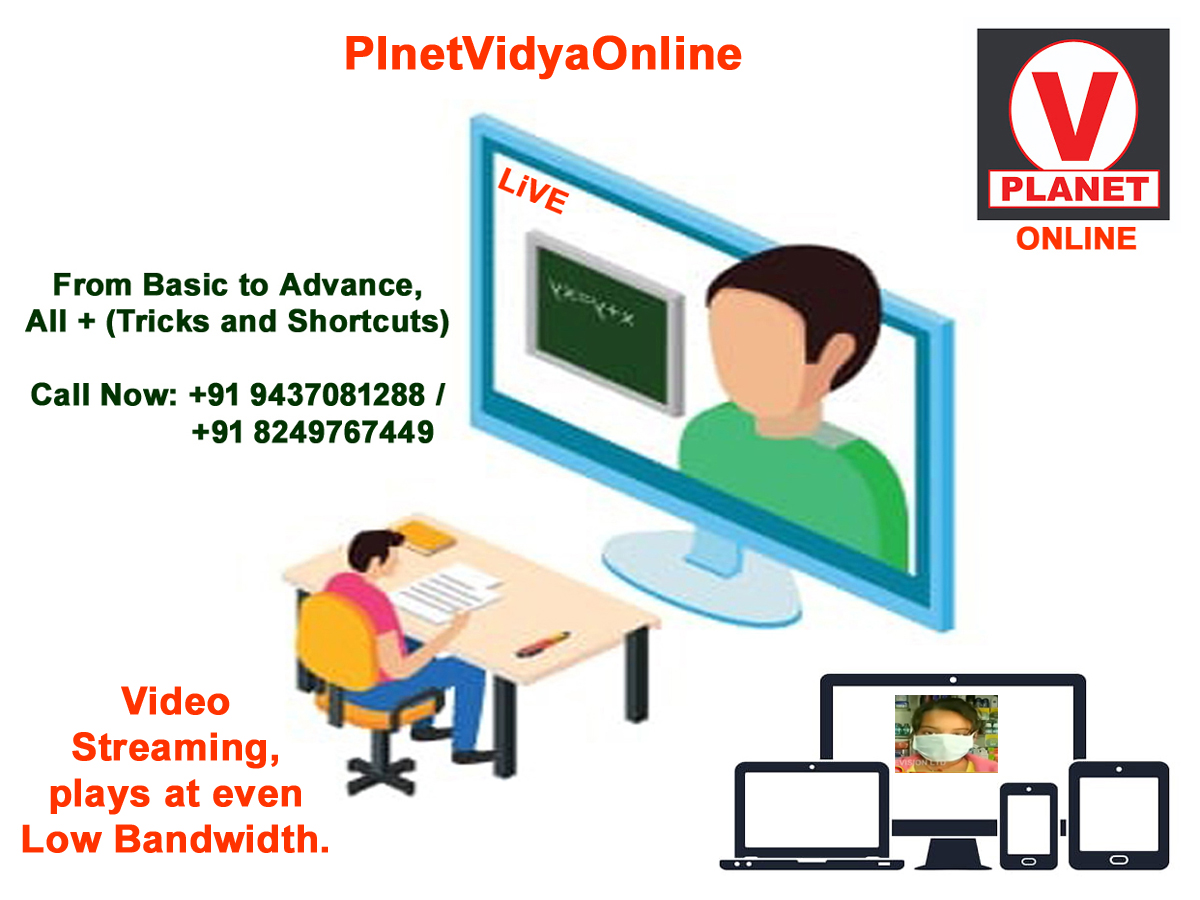 Planet Vidya Live Online Class / Offline Class or Both in Hybrid Mode
An All-inclusive Online Live Coaching Classes.
Welcome to the PlanetVidya Virtual Class (LiVE)
This online education can be effective as a face-to-face tuition.
It provides a "flexible" learning environment.
Online education is booming.
A bit unconventional and innovative, and the best way to appease hope.
" PlanetVidyaOnline" – The topper's strategy that will help you achieve the highest standards that are expected above and beyond.
It is making unique progress in competitive exam results (PlanetVidya since 1999) and enables you to feel more confident about the test.
Live Video Streaming, plays at even Low Bandwidth.

Call Now: +91 9437081288 / +91 8249767449

Prerequisites ( Sign up, It's Free )

Desktop client on Windows or Mac OS

Mobile app on iOS or Android (available on Apple App Store and Google Play)

Call Now : +91 8249767449

Get access to home tuition type classes by the best trainers and teachers of Planet Vidya (Since 1999 ) for

 Govt Job like banking, railway, ssc, ASo, Si, civil services etc

HEAD OFFICE : Acharya Vihar sqr, behind SBI ATM,

Bhubaneswar.

Branch:

CHANDI CHAKA , Arunodaya Colony, LINK ROAD ,

CUTTACK. And VSS Nagar & Sahid Nagar, Jaydev Vihar & Near Vanivihar, Nayapalli BBSR, Acharya Vihar

Ph: +91 9437081288

Website: http://theplanetvidya.org/

Mail: srisrinivasmishra@gmail.com

.
The ability to convey information accurately, clearly and purposefully is an important part of learning and by doing so you improve your overall life
PlanetVidyaOnline urges its students to strive for improvement, think about success, to reach them.
Beyond winning,
with   full of  confidence you can challenge other aspirants to compete  with you.
PlanetVidyaOnline, the successful SMART program is based on helping students to develop their natural competitive nature in highly effective performance.
Raise them to succeed in a competitive world.
To compete with more confidence a person can develop a healthy sense of pride through this education.
Call Now: +91 9437081288
Planet Vidya
HO- Behind SBI ATM, Planet Vidya, Acharya Vihar, Odisha, Bhubaneswar, India 751013
Be ready for
CET by NRA from 2021
Common Eligibility Test (CET) for Bank, SSC, Railway Exams
National Recruitment Agency (NRA). will be to conduct of
#cet by #nra
one exam for all govt jobs!
#OneExamForAllGovtJobs
#एनआरई द्वारा #सीईटी
सभी सरकारी नौकरियों के लिए एक परीक्षा!
#OneExamForAllGovtJobs
#planetvidya #mpower
ସବୁ ଚାକିରି ପାଇଁ ଏକ ପରୀକ୍ଷା !
ଜାତୀୟ ନିଯୁକ୍ତି ପ୍ରତିଷ୍ଠାନ (ଏନଆରଏ) ଦ୍ୱାରା
ସରକାରୀ ସ୍ତରର ପଦବୀ ପାଇଁ ସାଧାରଣ ଯୋଗ୍ୟତା ପରୀକ୍ଷା(ସିଇଟି)
#ଏନଆରଏ # ସିଇଟି Fees Rs. 10450 /- for more information contact us !
For Valuable Tips To Crack Competitive Exam, Please CLICK below links :
Keep Calm And Learn On.
– Learn From Anywhere
.Home Tuition like  Flexible  online learning face-to-face classes and rewarding.
offers by essentially all the features of their virtual classrooms in  mobile device-friendly  environment.
This Mobile Learning is extremely friendly to newer and modern teaching methodologies and conveys course materials.
PVO also presents quality classes which are affordable, highly value adding and distinguished.
It is a well quality effort  to extend learning beyond the Classroom Walls.
PlanetVidyaOnline aims at Infusing virtual learning into a classroom
which is typically, better than the physical learning environments.
"We are Trying our best to  deliver excellent training in live on online mode". – Planet Vidya ( MPowerGroup )
More Content Will Be Updated Soon
(N)EVER  (S)TOP LEARNING
PlanetVidyaOne:
Non-Stop -Your-Learning
Mode: Online Class / Class Room / Distance / Postal / Offline Class –
or Mix forms for the Best coaching, so as to continue your education without interruption.
Support Devices: Mobile /
Laptop / Tablet  / Desktop etc
PlanetVidyaOne
HQ: Planet Vidya, Behind SBI ATM, Acharya Vihar, Bhubaneswar, Odisha 751013
+91 9437081288
PlanetVidyaOne:
Face-to-face classes ( Never Ever Stop)
Planet-Vidya-Online-Learning
Click below
Planet Vidya Live Online Classes / Offline Classes or Both in Hybrid Mode

Online Competitive Exams Coaching Fees & Offline / Classroom Coaching Fees
( Online Coaching Classes Fees for BANK, SSC, RAILWAY, State Government Jobs Odisha, ( CET by NRA), IAS / OAS, BED, Spoken English, ENG, MED,  …
Government JOBS

( Recruitment Examinations )

COURSE

ONLINE MODE

( Live Classes )

OFFLINE MODE

( Classroom )

Online & Offline Classes  ( Both in Hybrid Mode )

About / Features

BANK ( Banking )

IBPS – PO / CLERK / SO

IBPS RRB –  PO / Clerk / SO

Rs. 10450/-

Rs. 10450/-

Rs. 11450

Planet Vidya is a well- known as it has been providing exceptional results for many years.

 

Planet Vidya (since 1999) is one old yet good coaching institute, has highly qualified ( so friendly )  experts having vast experience and knowledge regarding the competitive exams. They are to push you, challenge you and make sure you extend yourself beyond where you are now.

  Best coaching in small batch size of 20, 

+ Offers + Free Lifetime Support.

RBI – Officer / Assistant (Clerk )

Rs. 10450 /-

Rs. 10450 /-

Rs. 11450 /-

SBI – PO (Officer ) /

Junior Associate ( Clerk ) / SO

Rs. 10450 /-

Rs. 10450 /-

Rs. 11450 /-

LIC / GIC –  Officer / Assistant (Clerk )

Rs. 10450 /-

Rs. 10450 /-

Rs. 11450 /-

Cooperative Bank –  Officer / Assistant

Rs. 10450 /-

Rs. 10450 /-

Rs. 11450 /-

SSC

SSC CGL / SSC CHSL / SSC MTS / CPO / SSC JE / GD

Rs. 10450 /-

Rs. 10450 /-

Rs. 11450 /-

RAILWAY

ASM / Goods Guard / TTC / Group – D, Traffic Apprentice, RPF,  Junior Clerk cum Typist, Accounts Clerk cum Typist, Junior Time Keeper, Trains Clerk, Commercial cum Ticket Clerk, Traffic Assistant, Senior Commercial cum Ticket Clerk, Senior Clerk cum Typist, Junior Account Assistant cum Typist, Senior Time Keeper, Commercial Apprentice, Station Master or other Indian  Railway jobs

Rs. 10450 /-

Rs. 10450 /-

 

Rs. 11450 /-

 

IB

Officer / Clerk ( Assistant )

Rs. 10450 /-

Rs. 10450 /-

Rs. 11450 /-

UPSC

CDS /  Assistant Commandant / Police

Rs. 10450 /-

Rs. 10450 /-

Rs. 11450 /-

IAS

Rs. 30000 /Paper

NA

 

State Govt Jobs

ASO, Odisha Police SI, OSSC, OPSC, OSSSC or SSC

 

Rs. 10450 /-

Rs. 11450 /-

OAS

Rs. 20000 /Paper

           NA

 

NRA CET

BANK ( Banking ) + SSC + RAILWAY

Rs. 10450 /-

Rs. 10450 /-

Rs. 11450 /-

MBA / Campus Exam.

MAT / CAT / XAT / OJEE

Rs. 16450 /-

Rs. 10450 /-

Rs. 11450 /-
Online Competitive Exams Coaching Fees & Offline / Classroom Coaching Fees
( Online Coaching Classes Fees for BANK, SSC, RAILWAY, State Government Jobs Odisha, ( CET by NRA), IAS / OAS, BED, Spoken English, ENG, MED,  …
IAS / OAS, BED, Spoken English, ENG, MED,  … MCA  MBA Entrance Examinations, etc
Planet Vidya Live Online Classes / Offline Classes or Both in Hybrid Mode
CLICK to SEE here
BANKING Jobs :  http://theplanetvidya.org/courses/banking/
SSC , ASO & State Jobs : http://theplanetvidya.org/courses/SSC/
RAILWAY  Jobs : http://theplanetvidya.org/courses/RAILWAY/
IAS / OAS : http://theplanetvidya.org/courses/ias-oas/
MBA, BED and others : http://theplanetvidya.org/courses/mba/
UPSC / CDS : http://theplanetvidya.org/courses/CDS/